Protocraft was established in 1994 as a company to provide the O scale modeler with fully scale components (in fine scale Proto:48) such as wheels, trucks, couplers and accurate decals, in order to replace the oversize O scale wheels and the necessary over-wide trucks; replace KaDee's with accurately scaled working all-brass couplers. Beginning in 2005, Protocraft began importing a new line of very accurate and highly detailed all-brass freight car models built under the direction of Protocraft in Korea, by Boo Rim Precision Models, an esteemed and accomplished model builder. All models are available in either O scale or Proto:48.
Many HO modelers have shifted to a larger scale in order to achieve a more detailed and realistic operating model because it is much easier to detail, view, and has significantly better operating characteristics. O Scale is the natural choice for these modelers. Protocraft presents a further option - that of 1/4 inch finescale/Proto:48.
Today Protocraft has over 2,200 repeat customers, of which 600 specifically link their purchases to Proto:48. There are a few hundred P48 switching layouts and 15 good size P48 layouts (see the P48 layout link in this website) in the US and in a limited number, Canada, Australia and the UK.
In 2010, Protocraft Decals was established to supplement and finally replace the old Champ and Walthers Line, which by today's standards are on a thick stock with a too thick clear, and sometimes created with inaccurate or generic lettering. Many artists have contributed to the decal line such as Rick Leach, Ted Culotta, Greg Komar, Bill Schneider, Bruce Blalock and James Hickey to name a few.
Much of the decal line art work is created in Protocraft's shops in Sonoma, California having its own extensive research library, drawn in vector art using Adobe Illustrator, and employing hundreds of original railroad mechanical department arrangement drawings, supplied by the Pullman Library in Illinois and the Museum of Transportation in St. Louis, Missouri (AC&F), the Barriger Railroad Library at the University of Missouri, and over 5,000, 8x10 photographs, many supplied by the National Archives of Canada and the Smithsonian Museum's railroad department. Today the Protocraft Decal line has over 650+ individual and extensively researched decal sets for all major and many branch line railroads in the U.S. and Canada, with limited decals in HO scale. At Protocraft Decals all artwork is arranged on a sheet and printed by Microscale Industries in Southern California using the finest decal paper. Each set is finished with 5 extremely thin layer's of clear that is feathered at the edge of each block of lettering or artwork. The decal line is constantly being added to as well as providing accurate decals for Protocraft's brass models.
While mostly dealing in freight cars, the decal line is expanding to include passenger trains, both heavyweight and streamline lightweight cars; as well as some steam engines: Santa Fe and Western Pacific to date.

Compare the O scale truck on the left with the scale dimensioned truck on the right. The absence of the back side of the journal box is indicative of the O gauge necessity to clear the thick wheels. The accurately scaled model truck on the right is more than just pleasing to the eye - as an accurate model itself it compliments and finishes the overall model.
Protocraft's mainstay of it's business is the Grabowski wheel. Designed by Steve Grabowski from actual drawings of the prototype's manufacturer, Standard Steel of Pennsylvania, then converted to CAD drawings by Carl Jackson, the Protocraft wheel is an exact model of the prototype. Produced on Brown & Sharpe lathes from mild steel (12L14), the production of the wheel is a two-part complicated process, requiring a second collet operation to machine the back side profile. This is a labor intensive process and is the only wheel on the market with full back side and accurate hub detail. The axle, also produced from prototype drawings, is machined on a Swiss Screw Machine. Each axle follows the correct hub and contour based on it's tonnage rating, hence each axle installed in the respective ton-rated wheel matches the tonnage rating for the wheelset. (see table below). All prototype wheels are 5-1/2' wide, including the flange width. The flange has a height of 1 inch. All parts are made and assembled in the USA.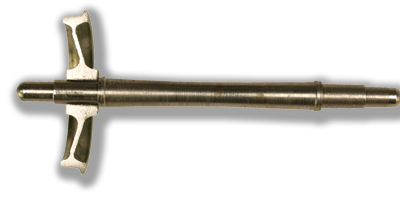 The Protocraft wheel profile is an accurate .115' width with 20:1 tread taper and correct fillet. The flange height however is made to .0258'. Running tire thickness also varies according to the prototype - from single-wear, two-wear and multi-wear. Single-wear wheels, when the tread has worn down to condemning limits, is discarded. Two-wear wheels, when worn to their condemning limits, were then shopped on large lathes and a new tread cut, then reinstalled for mainline use once again for one more use. Mult-wear wheels have the thickest tire portion of the wheel and can be re machined more than once until the final condemning limits are reached. Protocraft has modeled all three tire profiles on the appropriate wheels based on the prototype tonnage ratings. The parts are then heat-blackened with Pentrate to provide protection from corrosion and promote paint adherence, then coated with an oily wax for shipping and storage. The wheelsets are then assembled on a special press assembly jig to an accurate back to back measurement of 1.106'+/- .002' with a tolerance for spring-back of .001'. Protocraft provides wheel-pairs with insutators on both wheels or on only one side if electrical pick-up is required for either caboose and cabin cars or tenders. Each Protocraft truck kit comes with the appropriate wheelsets for the weight rating of the truck model. There is no finer nor better engineered model of the wheel anywhere than Protocraft's Grabowski wheel.