Muncie's boxcars were built by and leased from the Mather Stock Car Company's Chicago Ridge shops. The rolling stock consisted of 25 cars with an inside height of 9'-11", Series 1276-1300 which were in service between 1940 and 1957. The greater majority of cars were the shorter 8'-5" IH cars. These consisted of the rst series of cars received in the early 1930's: Series 1200-1250. In 1938 the series had been extended to 75 cars: Series 1200-1275. These cars remained in service through 1957. An additional 85 cars were leased between 1954 and 1957, as Series 1101-1185. In 1956 the Ball company entered into the aerospace industry and soon ceased glass jar manufacturing, and the cars were returned to the Mather Company. Lettering set designed and created at Protocraft Decals.
Paint & Lettering: Car sides and ends were painted a medium yellow, roof and underbody coated with black car cement - some roofs painted mineral red. Lettering all black . Chose your model and lettering carefully - note that the taller car has a taller jar.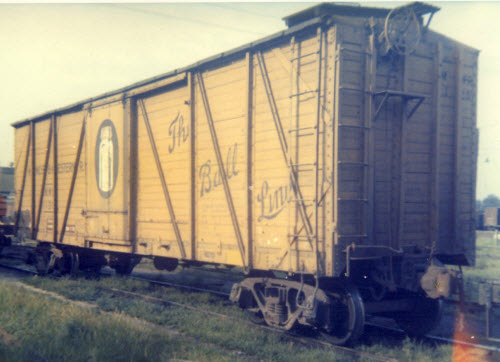 Historical Note The Muncie & Western Railroad was the Ball Brothers railroad. It operated less then 10 miles of track snaking through the large Ball Brothers complex in Muncie, Indiana. Its sole goal was to spot and pull all the facilities inside the plant and interchange the trac to the C&O, PRR, NKP, NYC at various locations around the large complex. The NKP and NYC both had what they called "Belt" tracks to reach the M&W, but they also serviced other industries on their belts. The C&O and PRR directly connected to the M&W at the same location, at Mock Avenue on Muncie's southeast side. The C&O used a wye to connect to the M&W and the PRR just connected at its south end with the M&W.